The Autumn Leaders
As the 2013 Six Nations draws closer, here's a quick overview of some of the players who stood out in the Autumn internationals. Can those who performed well keep it up? Can those who performed poorly redeem themselves, if picked?
Everything from here onwards is in no particular order of importance or enlightenment. It's just some stuff that might be interesting to note as we look forward to the year's first major international rugby union competition.
Attack
Leaders
Manu Tuilagi led the Six Nations Autumn field in the number of metres gained with 314 at a very healthy 7.5m per carry. Chris Robshaw had the most carries of anybody with 50, but for an average distance of just 1.9m. That's going to happen when you have 33 deliberately short carries into contact, as was the case with Robshaw. Robshaw was also up there in support carries, managing joint second on the series list with four behind Wesley Fofana's five.
Ireland's carry list
Cian Healy took on the most Irish ball with 17 carries. Like Robshaw he was used as his team's primary option for bringing the ball into deliberate contact from close range and Healy's average was similarly low at just 1.2m per carry. Ireland's best ground-maker? Craig Gilroy. He may have played just one game but the Ulsterman made the most of it, carrying ten times and making a team-best 98m. Next best, Simon Zebo with 66m (over two games).
Now you see it, now you don't
Tuilagi was the best at keeping play alive in the tackle, completing nine successful offloads. The French duo of Louis Picamoles and Maxime Mermoz came next with six and five respectively. Nobody else made more than four but included on that figure was Ireland's Tommy Bowe.
Catch him if you can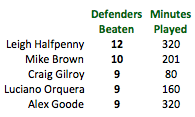 Craig Gilroy's exciting emergence was clearly backed up by the statistics. Despite playing just one capped match, his nine defenders beaten in that single game was good enough for joint third on the series leaderboard behind Wales' Leigh Halfpenny (12 in four games) and England's Mike Brown (10 in two games). Elusive.
Ballminders
Looking at the men who handle the ball the most by far, Conor Murray deserves praise for not committing a single passing error from scrum half. To put this in context, there were four apiece from Mike Phillips, Italy's Eduardo Gori and England's Danny Care (in limited game time).

Defence
Leaders
England captain Chris Robshaw led the Autumn tackle count with 49 tackles over his four games, missing just two, for a fearsome success rate of 96%. Toby Faletau had 39 tackles, missing two, for a tackle rate of 95% but left some of that on the table in allowing his tackled players to make a colossal eight offloads. France's Pascal Pape, in contrast, made 35 tackles at a 97% success rate and allowed just four offloads in the process. Robshaw's allowed offloads? Well in all those 49 tackles he allowed just three. Say what you like about his decision-making as captain but in his work on both sides of the ball there's no doubt the man gets about.
Don't run at these guys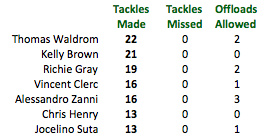 Most tackles without a miss went to England number eight Thomas Waldrom, making 22 successful tackles from 22 attempts. Scotland captain Kelly Brown was a narrow second with 21 and his teammate Richie Gray in third with 19. It's worth noting that in those 21 tackles, Kelly Brown didn't allow a single successful offload.
From Ireland's point of view, Chris Henry made 13 from 13 and, like Brown, didn't allow a single offload. Also performing well was the newly-capped Richardt Strauss who made 11 successful tackles from 11 attempts, including the forcing of two tackle turnovers. That turnover figure, matched by Peter O'Mahony, was bettered by only Maxime Mermoz and Brad Barritt who played three and four matches respectively.
Prop props
Ireland's leading tackler in the series was Cian Healy with 16 in the two games, missing just one in the process. As mentioned above, Healy was also Ireland's leading ball-carrier in the series. It's always worth reminding ourselves just how extraordinarily mobile he is for a prop.
Extra Tackle Practice Required
Despite the sterling defensive work of Robshaw and Barritt (who made 37 tackles at 93%)  the two England players will have looked at their back-three unit with some disdain.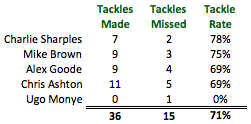 Between them, the fivesome of Brown, Goode, Ashton, Sharples and Monye combined for a tackle rate of 71%. In context that's not stupidly awful but it's odd that they were so uniformly unremarkable across the group. England's back three, in whatever combination, were the only such group from the Six Nations teams to not have a single player achieve a tackle rate of 80% during the Autumn Series. Over the past week the tackle bags might well have been out in training camp for England's flyers.
Must do better
While on the subject of poor performance, one talked-about candidate for the Lions' 13 jersey had a defensive series he'll want to forget. Wales' Jonathan Davies missed 7 of 18 tackle attempts for a success rate of just 61%. He simply won't be able to repeat that level of defensive ineptitude during this Six Nations championship if he's to challenge an O'Driscoll or a Tuilagi for that slot.
Penalties
Leaders (not in the good way)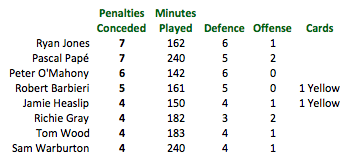 Pascal Papé and Ryan Jones led the way with seven penalties conceded apiece. Peter O'Mahony conceded six penalties, good for third on the Autumn offenders list behind Jones and Papé despite playing just two games.
In being pinged three times for not rolling away, French captain Papé was the only player from any of the Six Nations teams to be penalised thrice for the same offence.
All six of O'Mahony's sins were on the defensive side of the ball:
1 Not Releasing
1 Not rolling away
1 Handling in the ruck
1 Offside
2 Lineout offences
Ryan Jones, in contrast to both Papé and O'Mahony, picked up each of his seven penalties for seven different transgressions and did so on both attack and defence. Keeps 'em guessing, does Jones.
Unlucky
Italian captain Sergio Parisse managed to pick up a yellow card despite conceding just a single penalty in his team's three games.

Turnovers Conceded
Generosity
The Autumnal turnover kings for each nation: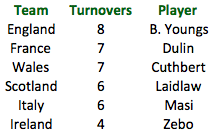 That's not a fair comparison, England fans might scream. After all, Ben Youngs played 4 games while Simon Zebo only played two.
That's a fair point.
Let's adjust that list so it includes the minutes played by each player during the Autumn and see who's really the worst.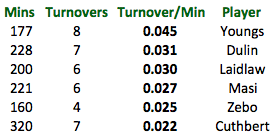 Ah, so it's still Ben Youngs. But now he looks even worse than he did before as he managed to concede those eight turnovers in a very small amount of time.
Due to his job-sharing role with Danny Care in the England scrum-half shirt, Youngs only played 177 minutes in England's four games; that's just 17 minutes more than Simon Zebo played in two. In contrast, Alex Cuthbert played all 320 minutes of Wales' four matches so he falls to the very bottom of our list of six.
Apart from Ben Youngs' love for conceding turnovers he also managed to blot his copybook further by missing five tackles in just seven attempts. Frankly, that's astonishing. While Youngs' chief rival for the England no. 9 jersey, Danny Care, did slightly better on the tackle front with a still-low 75% (but not as supremely awful as Youngs) Care managed to concede three penalties and get himself a yellow card. Either way, England have issues at scrum half it would seem.
Head back infield, sir
Of Alex Cuthbert's seven turnovers committed, four of them were by way of carrying the ball into touch. Perhaps so Cuthbert wouldn't feel too badly about it, fellow Welsh winger George North did the same thing three times in just two matches. For context, only one other player from the Six Nations teams did that even twice last Autumn, that being Scotland's Sean Lamont.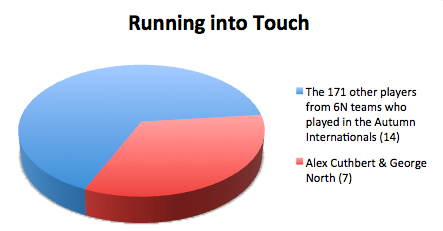 Being that there were only 21 such turnovers committed by Six Nations teams last Autumn the Welsh wing duo of Cuthbert and North, huge men both, were collectively responsible for one third of them. That's presumably something the Welsh team management are looking at.
What of all of the above?
It will be interesting to see if Cian Healy and Chris Robshaw can keep up that kind of workrate on both sides of the ball for an entire Six Nations campaign, particularly in light of the latter's very real battle for a Lions back row slot (we'll assume Cian Healy, barring injury, is realistically safely on the plane to Australia).
Perhaps most notable of all will be looking to see how England will deal with Tuilagi's absence from Saturday's match against Scotland. The Samoan-born 21 year old had a storming Autumn and it would be a tall order for a Billy Twelvetrees or Jonathan Joseph to replace that sort of metre-chewing production with ball in hand, assuming England don't decide to move Owen Farrell to 12 to create a twin-receiver approach with Toby Flood or Freddie Burns.
And Craig Gilroy? If he somehow keeps up anything close to that kind of performance, a red jersey and an airplane ticket to Australia surely await.
Note: all stats sourced from the good people at Opta.