The Crooked Feed in France
The IRB's new scrum engagement trial is still in its early days. Despite some frustration voiced by commentators, fans as well as some in the game itself the referees have mostly been seen to stick to their guns, making props bind early and halfbacks feed the ball straight. But for how long will this insistence last?
The Rabodirect Pro 12 and Aviva Premiership have played only two rounds each so far, not really a figure to make big judgements on. Their colleagues in France's Top 14, however, have already got through six rounds of matches which is certainly enough to at least have a peek at the numbers and see they might tell us.
Whatever fears there might have been about the new trial law depowering the scrum and leaving it castrated as a contest, anecdotally this has not been the case in France. "The scrum is still a massive part of French rugby" said one Top 14 coach last week. "[The new law] actually means it's a lot more draining for the props". No surrendering of man-cards, it would appear.
As of the weekend of September 14/15 there have been a total of 42 matches played in the Top 14, that's between a quarter and a fifth of their 187 game season. The number of scrums per Top 14 game is slightly down on the 2012/13 campaign (from 17 to 16) but it's what's been happening in those 665 scrums that we're interested in.
According to Opta's records, penalties awarded for front rows collapsing have reduced from 41% of all scrum offences to 34%. This isn't a huge number but considering that each fewer collapse can prevent six potential neck injuries any reduction is welcome. Early engagements have also reduced but a drop from 23% to 20% is at this stage perhaps not significant.
The Crooked Feed Returns. For a while.
It might be no surprise that the change that jumps from the page is the welcome return of the whistle for a crooked feed. In the 42 Top 14 games this season referees have pinged scrum halves for not feeding the ball straight on 32 occasions.
If less than one crooked feed called per game doesn't sound like a lot, consider that there were only seven crooked feeds penalised for the entire 2012/13 Top 14 season. It's the difference between seeing one every 500 scrums and one every 20 scrums, i.e. an enormous difference indeed.
A round by round view tells its own interesting story.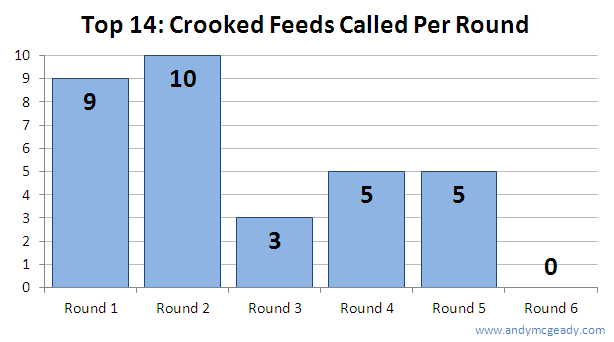 In the first two weeks of the Top 14 season there were a total of 19 crooked feeds penalised, dropping to under half that rate per game in weeks 3-5 and reaching zero in week 6.
Yes.
Zero.
Why Did The Crooked Feed Suddenly Disappear?
Maybe there just weren't very many scrums? Well, there were 111 scrums in the seven games of Top 14's sixth round. That's an average of 16 scrums per game, the same as the average for the season as a whole (15.8 to 15.9, to be precise). This was no remarkable weekend of scrum-free rugby.
Perhaps a new swathe of referees?
Only Sebastien Cloute made his seasonal whistling debut in Round 6. In fact four of the remaining six were officiating in games over those first two crooked-feed-littered weekends. It wasn't some new batch of refereeing rookies unleashed upon the league.
To look at it another way, here's the number of games per round with at least one crooked feed penalised by a referee.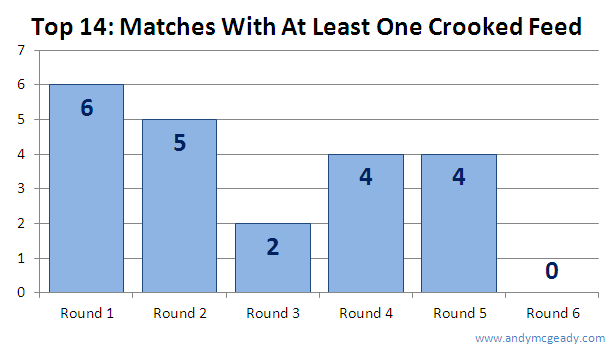 Assuming Opta's data is kosher and true, there are three reasonable possibilities for how there were no crooked feeds awarded from the 111 scrums that took place last weekend in the Top 14.
a) Education: All Top 14 scrum halves learned to feed the ball consistently straight in just five weeks.
b) Laxity: Referees bowed to external pressures – the whining of coaches, players, fans and even some misguided commentators – and returned to the somewhat more lax geometric definition of the word "straight".
c) Fluke: Of the 42 Top 14 games so far this season, precisely half of them have been seen through to their conclusion without a crooked feed being called. It is entirely possible that the gods of randomness dictated that seven of these 21 games would occur in a single round of the competition.
Whatever the true reason, French scrums, referees and the precise direction of the feed will be worth watching closely in this weekend's Top 14.
Data Credit: scrum and penalty data courtesy of Opta