Why Alex Cuthbert's Hip Saved Liam Williams From Getting A Red Card
Rugby fans will need no reminding of the Jared Payne red card incident in this season's Heineken Cup quarter final against Saracens at Ravenhill. With Payne's subsequent ban, to many it seemed that a clear precedent was set for the consequences of causing contact with an airborne rival even if such contact was unintentional.
So when this challenge by Scarlets' Liam Williams on Cardiff's Alex Cuthbert merited only a yellow, it seemed a little curious.
Williams would go on to receive a red card later in the game (a second yellow for cynical play) but after colliding with Cuthbert he would return to the field after ten minutes in the bin. To many watching the game at the time a yellow card for the Payne-like collision seemed a soft call but according to rugby directives this decision was correct. Why so? Because when Alex Cuthbert came down from the skies he landed on his hip.
Ref Chat
In the clip above you can hear Ian Davies going over the replay with his TMO, Gareth Simmonds.
"Gareth, as I'm seeing that he's landing on his hip area."

"Gareth I'm happy, if you are, that he's landing on his hip – I'm seeing nothing else, there's no contact with the neck/head area first"
The emphasis on Cuthbert's hip, and Davies' noting the lack of contact with the neck/head, is the key point. And it's almost certainly the reason why he issued a yellow card for Williams rather than the red card that might have been assumed given the obvious similarity to the Jared Payne incident.
Memo
Here's an video that I understand was sent out as part of an IRB memo after the Payne red card. It uses a number of examples, including the Payne/Goode collision, to get the message across that a player colliding with an opponent who's in mid-air is a dangerous challenge, no matter where their eyes might have been looking.
And if they land on their head or neck it's a red card.
Note the wording again: Player in the air lands on head/neck = Red Card.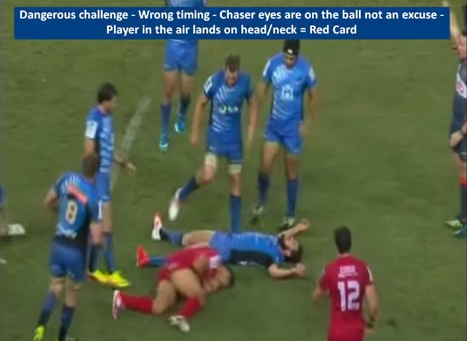 That wording puts Davies' talk to his TMO in the proper context, especially the specifics around Cuthbert landing on his hip.
Should the player's landing position matter?
If one is hit in mid-air it can be largely a matter of luck whether one lands on neck, hip or backside. In that light, basing the colour of the card around which part of the victim's body landed first is perhaps introducing unnecessary randomness into the disciplinary equation.
But for now it's worth noting the work of a referee who took time over a decision and, according to IRB law, got it right.
Update 22/04/2014: Liam Williams cited for a dangerous tackle http://www.andymcgeady.com/liam-williams-cited/